Value: 3/5
Livability: 4/5
Nightlife: 4/5
Saint Petersburg is the most "European" of Russian cities; architecturally looking a bit like Paris, while its canals will remind one of Amsterdam. The city's deep underground metro lines span great distances to connect the city center with its suburbs. The metro costs about 50 US cents per ride, and during rush hour arrives as frequently as once every minute. The cities affordability to travelers has risen considerably in recent years because of the depreciation of the local currency.
While Moscow is for hustling and earning money, Saint Petersburg is the city for art and culture. People in Saint Petersburg take their time, and you will not see them running up the metro escalators as people do in Moscow. The city is also the most tourist friendly in Russia, with most restaurants in the city center having menus in English. There are also an infinite amount of options for going out in the evening in Saint Petersburg. Although during slower nights, I feel that this can spread thin the people who are out.
If you are a US citizen, you can read here about the process for obtaining a visa.
Recommended Attractions:
Museum of Cosmonautics and Rocket Technology (Located inside the Peter and Paul Fortress)
A museum devoted to the history of Russian cosmonautics and rocket technology and the role played by the Petersburg-Leningrad scientists, engineers, and designers. While not as grand as the larger cosmonautics museum located in Moscow, it is still very much worth visiting. Exploring the fortress surrounding the museum is also worth the visit.
Hermitage
A former place turned into an incredibly large museum spanning multiple interconnected buildings filled with art work. An entire day could easily be spent in this museum.
Grand Market Russia (Tsvetochnaya ul., 16, Sankt-Peterburg, 196084)
A large layout of Russia represented with miniatures, including active model trains and cars.
Mariinsky Theater
This iconic theater hosts ballets, operas and orchestral performances. There is also a second newer theater built directly behind the original. While tickets for famous performances such as Swan Lake can be priced in the hundreds of dollars range, one can try buying last minute balcony tickets directly from the ticket office for non sold out shows at a greatly reduced rate.
Recommended Nightlife:
Dom 7 (Griboyedov channel embankment, 7, Sankt-Peterburg, 191186)
A cozy jazz bar located near the Church of the Savior on Blood Cathedral. If you like jazz, Saint Petersburg has many other venues which feature jazz/swing performers. Other venues include 48 Chairs of which there are two locations, and The Hat which has performances on Monday night.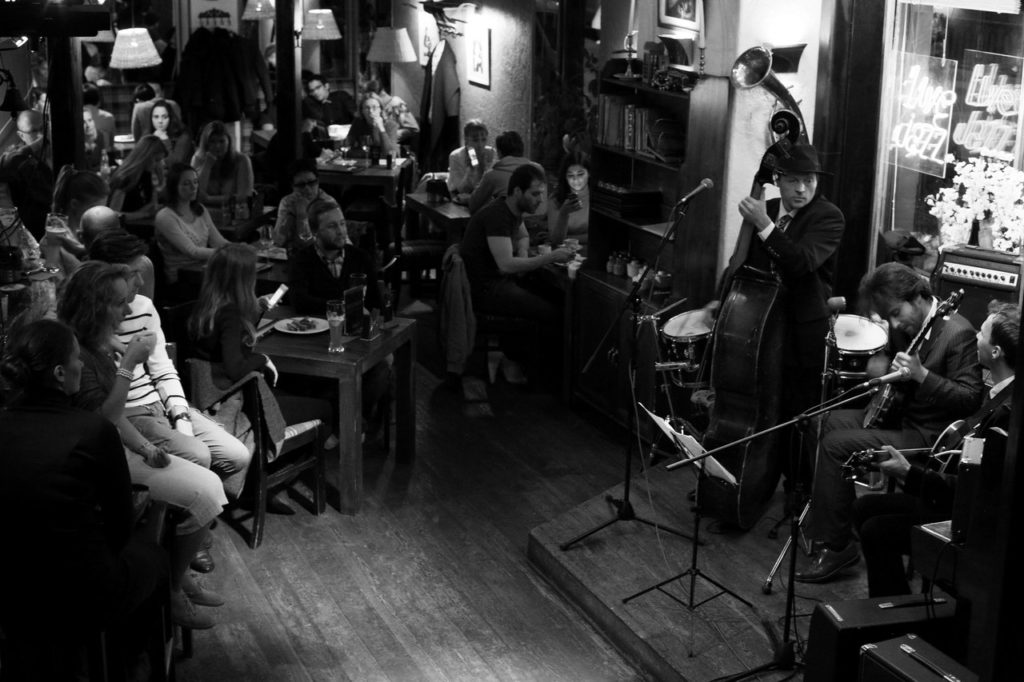 Rubenstein street 
One of the nicest streets in the city, filled with restaurants, pubs and wine bars. Most places are full on the weekend and require reservations, and by 1 AM most are winding down as people head out to other places in the city. Prices on this street are above average compared to elsewhere in the city.
Dumskaya street
This street and the one adjacent to it are filled with countless dive bars, where the prices are lower than elsewhere in the city. Fidel Bar being the most famous among them. However, violent fights often break out here on the street and there are an incredible amount of scam girls looking to lure you away. Keep and eye on your wallet. While I never have had any issues, one should still be aware, it is Russia after all. 😉
Soul Kitchen Club
Not all establishments near Dumskaya can be considered diver bars, many are actually quite nice inside. Soul Kitchen is a two floor bar/club which can be quite fun when busy. Peer in the front door at the coat check to judge attendance prior to entering. Normally is pretty good on Fridays and Saturdays.
Lomonosov Bar
Along with Soul Kitchen, this bar is one of the nicer places located near Dumskaya. There is a dance floor on the second floor and electronic music on the third. Normally busy on weekends and has the most attractive patrons of anyone partying near Dumskaya. There is face control and sometimes a cover charge on weekends after a certain hour, or whenever the door man thinks he can get some money out of you.
Santa Barbara Club
Probably the most high end club in Saint Petersburg. Free entrance, but strict face control and once inside drinks are expensive (by Russian standards) and limited to only cocktails and shots, i.e. no beer. The venue can be tricky to find, given that it is tucked within an inner courtyard and not on a main road. The venue has multiple rooms on multiple floors, including a space for karaoke. Often rooms are setup with lounge chairs and have a type of "sit and be seen" atmosphere. Best time would be the early AM hours after people are done eating and have started mingling and dancing in the rooms' centers.
Rossi's Club
This cellar club has an entrance fee of around 500 Roubles, but once inside the drinks are reasonably priced. Even with the cover, if you order more than one drink, you will pay less at the end of the night than you would at Santa Barbara. On a good night when it is busy, I enjoy this club the most in Saint Petersburg. It is still on the high end side, but a bit more relaxed and better setup for mingling and dancing.
Recommended Remote Working Spots:
Writers' Bookstore
Located in the city center on the left side of Nevsky Prospekt near the bridge that crosses Fontanka River walking in the direction of from the Hermitage to Fontanka river. This cafe offers cheap coffee and is a good place to work remotely.
Cafe Zinger
Located on the second floor of the House of Books, this cafe servers coffee at a higher price, but gives you a beautiful view out its windows of the Kazan Cathedral. Seats near power outlets may also be limited at this location.
by