Value: 2/5
Livability: 3.5/5
Nightlife: 3/5
I visited Moscow for a week in December, and experienced the famous Russian winter. It was colder than -20 degrees Fahrenheit some evenings, temperatures at which my cell phone and other electronics decided that they would quit working. It quickly became clear to me why both Napoleon and the Nazis had issues.
Overall, I was impressed by Moscow, and found the city center to be very modern. However, prices are much higher than anywhere else in Russia. On average, apartments in the city center run 50% higher than in Saint Petersburg, and restaurant prices were also at least 25% higher. Be advised, prior to the Russian currency recently being massively devalued, Moscow was among the most expensive cities in the world. A night out in Moscow will be significantly more costly than in other Russian cities. Moscow is also a bit quite during the work week, but comes alive on weekends. Nowhere else in the world will you see so many beautiful and well dressed women walking down snowy streets using their high heels as stabilizing ice picks.
Everything in Moscow is very spread out. Moscow is a large city with nearly 20 million inhabitants when you include the city's suburbs. Fortunately, it has a vast metro system for getting around. Although be warned, the metro can be a bit confusing for first time users, and not every station has stops labeled in English. However, each metro station is beautifully and uniquely decorated, and you could stumble upon some things worth seeing by getting lost.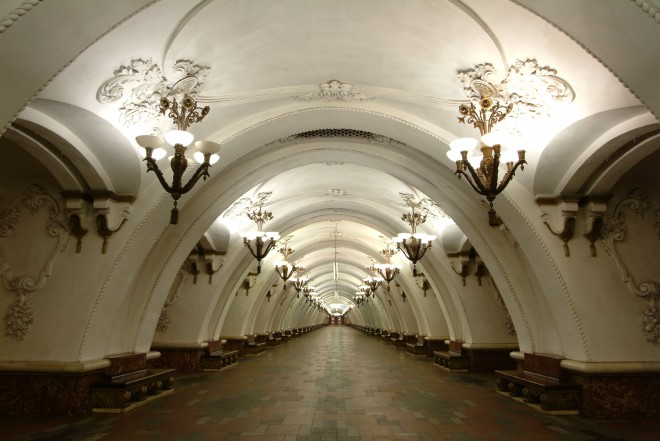 Russia was the first country that I have visited which required me to obtain a tourist visa prior to visiting. If you too are a US citizen, you can read here about the process for obtaining a visa.
Recommended Places:
Cosmonautics Museum (pr-t. Mira, 111, Moskva, 129515)
A museum that documents Soviet/Russian space achievements starting with Sputnik up to present day. The museum can be reached by taking the metro to the VDNKh stop. As a space enthusiast, I thought the museum was great given its large collection of satellites, a walk-in replica of the Mir space station and rocket models.
Red Square
The iconic square near the Kremlin, bordered by the Saint Basil's Cathedral and Lenin's mausoleum.
Museum of Soviet Arcade Machines (ul. Kuznetskiy Most, 12, Moskva, 107031)
You can play old soviet arcade machines, which include games such as target shooting and sinking submarines. Given the age of the machines, and the fact they each only run on a handful of vacuum tube transistors, game play is a bit limited. But visiting the museum can be a fun way of killing an hour between doing other things.

by