Value: 5/5
Livability: 3.5/5
Nightlife: 4.5/5
Belgrade is an amazing city. The Serbian people, together with other former Yugoslavians, are the friendliest people that I have met in Europe.
Even after repeatedly reminding me that the United States bombed them, they still often offer to buy me a drink. Preserved to serve as reminders of the NATO bombings, the city has left multiple bombed out buildings unrepaired. While the buildings and architecture of Belgrade might not visually be much to look at, I have never been to a country with more beautiful women.
The cost of living in Serbia is incredibly low by Western standards, thus your quality of life can be very high relative to the amount of money you spend. Serbia is still a bit off the beaten path for tourists, which I like, and contributes to the very down-to-earth authentic feel of the city. Although I believe that descriptions of the nightlife scene have been a bit inflated online in order to draw in tourists, compared to most other cities in Europe, it is fair to say that Belgrade is for sure way above average. It is also true that the Serbian people love to party. When not working or studying, many young people forgo sleeping and choose to party instead.
Many parties in Belgrade take place in Kafanas, which are a hybrid between a bar and a club. While they can be fun, I dislike the way everyone is assigned to specific tables, since this can make it harder to socialize and meet new people. Having made a reservation in advance is also often required to get a table. Although, reserving a table can often be done free of charge.
Recommended Places:
Kafana Question Mark (Kralja Petra 6, Beograd 11000, Serbia)
One of the oldest restaurants in the city. You can get an amazing meal here for an equally amazing price. Great atmosphere, and often includes a live band which serenades different tables.
Ada Beach Area / Lake Sava
Part of the the Sava river has been cordoned off using man made dams to create a lake. Sport complexes are setup on the surrounding shore. Free to enter, Ada has become a popular resort area.
Savamala District / Klub Dvorištance (Braće Krsmanović, Beograd 11000, Serbia)
This district is filled with small bars, many of which include nice outdoor sitting areas. There is not very good direct public transportation to Savamala, so you will need to either walk or take a taxi.
On warm days, Klub Dvorištance is by far my favorite place.  You will have to enter a door normally supervised by two security guards and walk through a small inside area to access the nice outdoor seating area in the back. This area is secluded and can't be seen from the street. Walk in with confidence, like you are a regular, otherwise they guards may try to get you to pay a small entrance fee, especially if they know you are a foreigner. From the back outdoor area, you will have a nice view of the Sava River. On the other side of a fencing, only a couple meters away from your table, occasional cargo trains may slowly pass by.
Skadarlija District
Restaurant district located in a preserved old-town street of the city. This is a pretty street to sit outside and order dinner on.
Splavs
Splavs are party boats located on the river, primary on the side opposite to the city. Getting back home from these boats to the city center almost always requires taking a taxi at night. For a cheaper taxi rate, cross back over the bridge before hailing a taxi. There are over 20 Splavs located on the rivers that run through Belgrade. Inside many are setup much like Kafanas. Given that people are often squeezed in and assigned seating, I'm not really a huge fan of them. However, since they are pretty unique to Belgrade, they are worth checking out.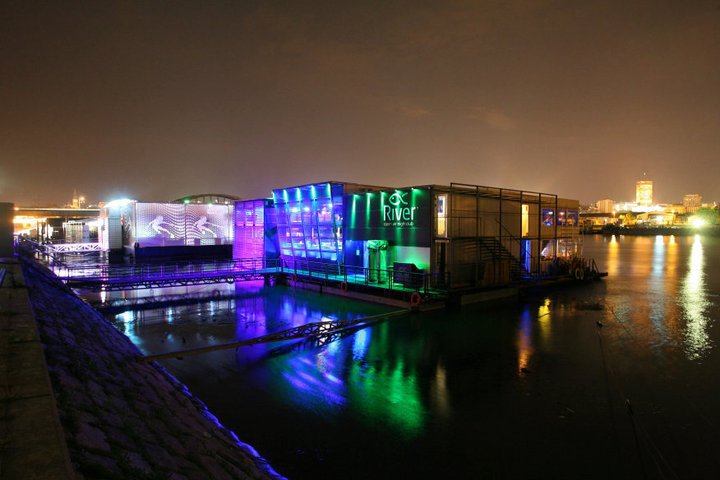 Kalemegdan Park and Fortress
A nice park that includes a fortress which overlooks the river. Some nights parties are held in the fortress. Young couples often like to sit together on the stone wall ledge overlooking the river.
Nikola Tesla Museum (Krunska 51, Beograd 11000, Serbia)
A museum dedicated to Nikola Tesla, which shows off the inventor's electrical inventions. I recommend calling ahead and asking the times of their English tours. The museum itself is rather small, and the tour is what makes the visit worthwhile. During the tour they will show you a video on Tesla's life, and fire up a large Tesla coil which makes florescence light bulbs glow in your hands.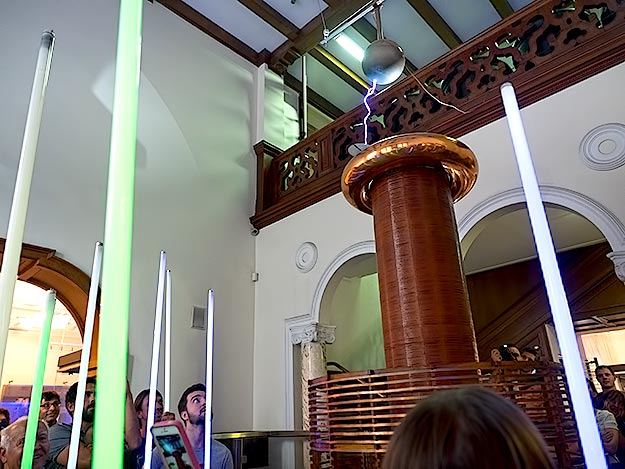 by