Value: 5/5
Livability: 3/5
Nightlife: 3/5
Sarajevo is a one of a kind city, and perhaps the most unique in Europe. The city of Sarajevo has always contained a mix of cultures. The buildings of the city itself can visibly be recognized as a fusion of both Austrian-Hungarian and Ottoman architecture.
Some women will be walking down the street showing their midriffs, while others will be dressed in full burkas. Since transportation options for getting to the city are quite limited, Sarajevo remains off the beaten path for most travelers. This unique and authentic feel of both the city and its people, unspoiled by massive tourism, is what I loved about the city. The Bosnian people that I met were incredibly friendly, welcoming and helpful.
The city is still recovering both emotionally and physically from the terror that took place there during the war years. There is massive unemployment and economic hardship. In parts of the city, running water is still rationed at night. So you may want to double check your accommodation's water capabilities, especially if a late night shower is important to you.
Recommended Places:
Olympic Bobsled Track
There remnants of the bobsled track used during the 1984 Winter Olympic games remain on a hillside above Sarajevo. I recommend taking a taxi to the top of the mountain, and then walking back down the tracks towards the city. This is a worthwhile way of spending a couple hours of an afternoon.
Sarajevo Tunnel (Tuneli 1, Sarajevo 71000, Bosnia & Herzegovina)
An underground tunnel was built near the airport to resupply the city while it was under siege. A portion of this tunnel still exists today and can be visited along with an accompanying museum about it.
I didn't want to pay for an official tour or a taxi, so I used local transport to get dropped off close by the tunnel/museum. This required me to take a tram from the city center to a bus station, and then a bus to near the airport/tunnel, and then walk less than a quarter of a mile. You will likely need to get help from a local to figure out how to accomplish this. It will be a bit of an adventure given the language barrier, unreadable signs, and figuring out the correct bus to get on.
Gallery 11/07/95 (Trg fra Grge Martića 2/III, 71000 Sarajevo)
This is a very powerful art gallery that shows images and films that capture life during the war years. The gallery does an excellent job at showing the resilience of people who must live continuously for years while trapped in a conflict zone.
City Pub (Hadžiristića bb, Sarajevo 71000)
The main bar located in the city center; a good place to socialize any night of the week.
Cinema (Mehmeda Spahe 20, Sarajevo 71000, Bosnia & Herzegovina)
The primary club in Sarajevo, converted from an old cinema.
Rock & Jazz Club Underground (Maršala Tita 56, 71000 Sarajevo)
This club is both literally and figuratively underground. The entrance to the stairs that lead down to the club can be a bit hard to find. This was my favorite bar in Sarajevo, due to its live music, atmosphere, and low prices.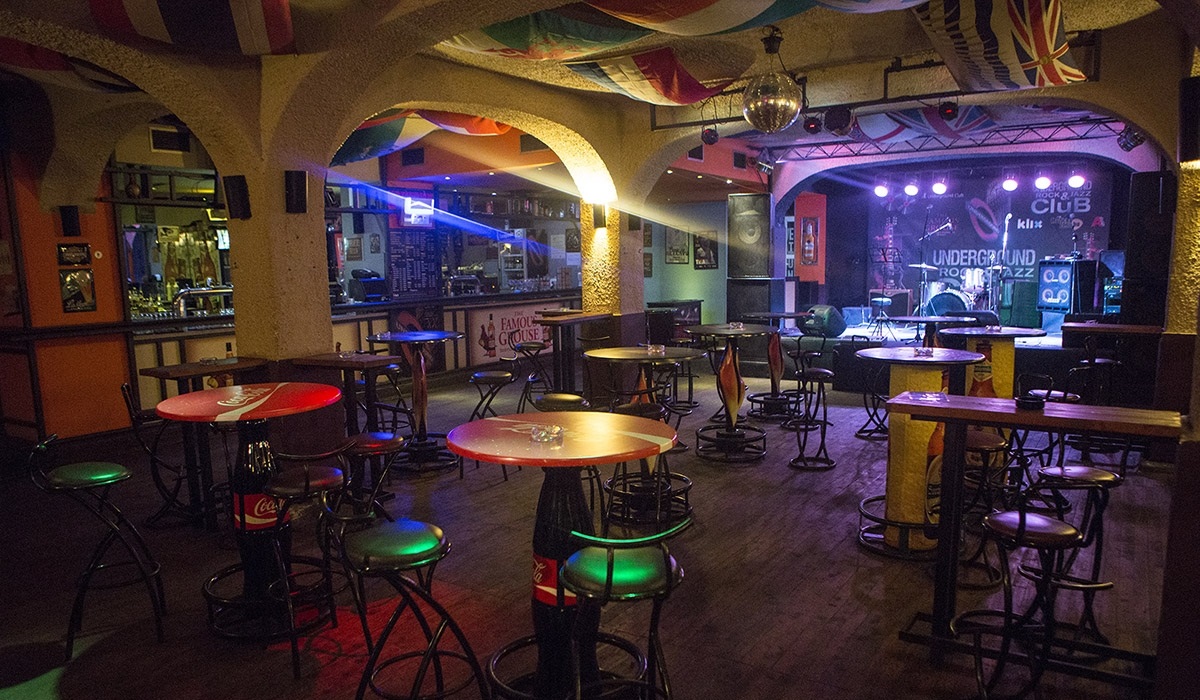 by