Value: 5/5
Livability: 2.5/5
Nightlife: 2/5
Kosovo is one of the world's newest countries (that is, if your nation recognizes it). The citizens of its largest cities (Pristina and Prizren) are primarily Albanian, and thus Albanian is the language spoken in these cities. However, if you venture to some of the mountain villages, you will hear the people speaking a dialect of the Serbo-Croatian language.
Due to alliances during the most recent conflict, you will find streets named after Bill Clinton, and hotels after Hillary. The capital Pristina is more of a typical "soviet style" concrete city with an Ottoman area, while Prizren (pictured above) is quite picturesque.
Both Pristina and Prizren are small enough that they can be explored on foot within a day or so. The severe economic problems make the cities incredibly affordable. I paid 1.25 Euro for four coffees outside the city center. While all of Kosovo's neighbors utilize their own unique currencies, Kosovo uses the Euro.
Nightlife in Kosovo is a bit slow, and definitely skewed male wise (3 to 1) in many places. So I would focus more on the architecture and nature than going out. In Pristina, the National Library of Kosovo, pictured below, is probably the most interesting building to see. The old bazaar area of Pristina, with architecture from Ottoman times, is another area of the city worth checking out.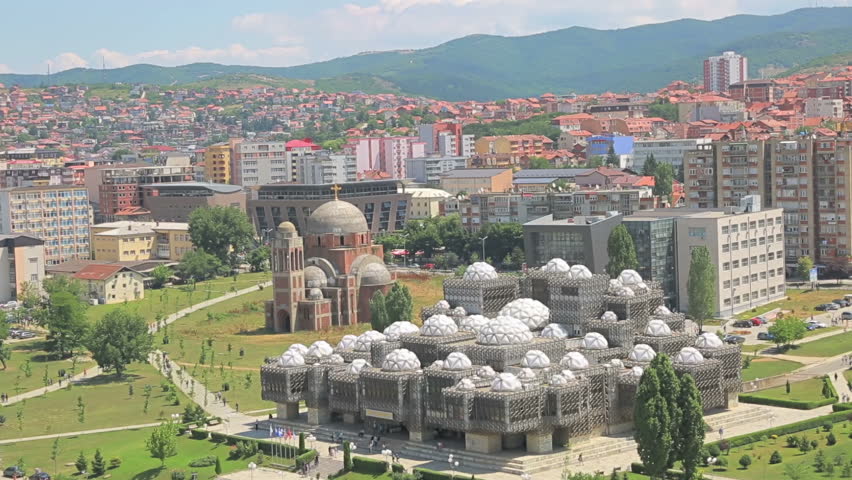 The mountains and nature surrounding Prizren are incredibly beautiful. However, getting to it involved hitch hiking and the my friend's ability to speak the local language (Serbian dialect). The roads (more like paved bicycle paths) were also the most terrifying ones that I have ever been on. They run along the edges of cliffs that wind around the mountains. Two cars can barely pass each other, and sometimes one had to reverse backwards to make room for the other. We had to find the single cafe in the remote village we hitch hiked to, and get the owner to hire us a personal driver back to a slightly larger city so that we did not get stranded there for the night. However, it was well worth the effort to view the scenery pictured below.
While Pristina has a large central bus station, the transportation situation in Prizren is confounding. Budget plenty of time for figuring out how to depart Prizren by bus. I met many backpackers who ended up staying an extra day because they could not figure out how to leave. For me personally, to get from Prizren back to Pristina, it involved finding a random guy outside the bus station who supposedly worked for the bus company, getting into his ordinary car, having him drive me up onto the highway, where he called the bus and notified the driver that there was a customer waiting on the side of the highway for him to pickup. The plus side was that the ticket cost almost nothing.
Another important note about traveling to Kosovo, is that you must be careful about the route that you take to get there. Since Serbia does not recognize Kosovo as an independent nation, you may not enter Serbia from Kosovo, if you have most recently entered Kosovo from one of its other neighboring countries (Macedonia, Montenegro, or Albania), and not from Serbia. If you try to pass to Serbia from a neighboring country via Kosovo, the Serbians will declare that you have illegally entered their country, and give you trouble at the border. Thus if you are starting in Macedonia, and want to visit Kosovo and then Serbia, you will need to cross back into Macedonia and not proceed directly into Serbia. Thus your trip should look like: Macedonia – Kosovo – Macedonia – Serbia, and NOT: Macedonia-Kosovo-Serbia.

by