I recently completed the process for getting a Russian visa as an American citizen, and personally found it straight forward and painless. I was able to obtain a three year multiple entry tourist visa within 13 calendar days of applying in person at the visa processing center in New York City. Without having a scheduled appointment, I was able to walk into the visa office and immediately drop off my application and pay the processing fee.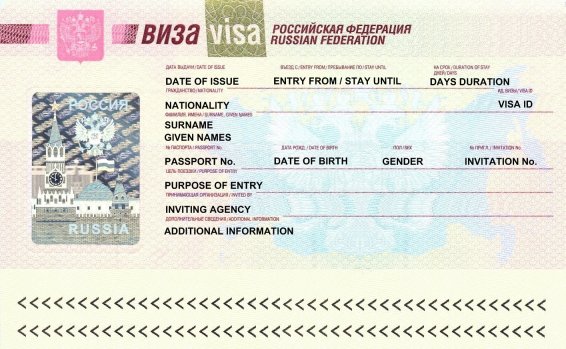 The complete final cost to me was $193 (UPDATE: Multi entry visa price has risen to $303). The fee must be payed upfront, and regardless of if your application ends up being approved or not. If you are unable to personally go to one of the consulate locations and need to apply via mail, it will cost an additional $85. While I was personally very pleased with the ease of this process, I'm sure results may vary for others. If you live far away from one of the Russian visa centers (D.C., Houston, Seattle, San Francisco, and New York), and end up getting called in for an interview, you may face some major inconveniences.
The ILS website clearly lays out the steps that you must take to get a visa. However, I will clarify below some of the finer points of the process, and provide some money saving tips. Please note that this article is written solely for U.S. Citizens, and the process may vary for citizens of other nations.
30 day visa or 3 year visa?
Firstly, its important to realize that for the same price as a one month tourist visa, you can now obtain a three year multiple entry visa. This visa is good for three years, and allows you to stay in Russia for up to 181 days at a time. Given that the cost and paper work is the same regardless of which visa that you choose, you might as well apply for the three year visa. This way you can push your trip to a later date if necessary, or visit Russia multiple times within a three year period without having to re-complete the application process.
However, there is one important thing to note. You cannot get a Russian visa that is valid for longer than the validity of your passport. If you apply for a three year multiple entry visa, it will only be valid until a date that is no later than your passport's expiration date minus six months. So if you desire the full three year multiple entry visa, you may need to renew your passport first, if it is set to expire prior to your initial planned entry date to Russia plus 3.5 years.
How can I get a free invitation letter?
I was able to obtain the necessary visa invitation letter for free by applying for one through www.saint-petersburg.com Click here to read in detail how you too can get both the confirmation and tourist vouchers needed to apply for your Russian visa for free! I received these documents via email within 24 hours of applying for them.
It can cost $30 otherwise to order these documents from another website. By booking a refundable room on booking.com via the affiliate link which is provided on the website above, the overall cost to you can literally be nothing. In addition, if your visa gets denied, you will not have wasted an additional $30. If you book a refundable hotel room, you will also be able to recoup any money that you spent on lodgings. Remember, you will need to pick a place to stay in Russia for at least the first night of your trip, to be able to obtain the necessary support documents required for your visa application.
What if I can't fit all my past travels on my application?
While filing out the online application, I was asked to list every country that I have been to in the last 10 years. I started with my most recent trips and worked backwards. After 30 entries, the online application would not let me add any additional trips. Thus I stopped adding them at this point. Another well-traveled friend of mine did the same, and neither of us had any issues.
Do I need health insurance?
In the application, I listed having no health insurance which covered me in Russia. Only Europeans are required to show proof of health insurance, since they often require Russians to do the same when visiting their countries. While I would still advise buying health insurance that is good in Russia, I can personally confirm that it is not a prerequisite to obtaining a visa. Thus you may perhaps want to wait until after your visa application is approved before purchasing coverage. This way buying health insurance will not be a waste of time and money if your application gets denied.
How long until my visa is ready?
While the ILS website lists choices of paying either a 3 day processing fee or a 10 day processing fee, my invoice lists me having payed a 15 day processing fee, which was identical to the fee listed as the 10 day processing fee online. I was given a pick-up date 13 days later from the date that I submitted my application in person. Expect the process to be longer if you apply via mail. The consulate has the right to hold your passport for up to 30 days before deciding whether to issue a visa, and can choose to interview you or ask for additional supporting documents (pay stubs, etc.) during this time. Thus I would highly recommend starting this process at least one month before your planned trip.
Save the invoice that you get, since you will need it along with another form of ID such as a driver's license to pick up your passport at a later date.
Must I pay the fee with a cashier's check or money order?
No, I payed in NYC using cash.
Can I apply for a Russian visa while abroad?
I have seen it written on some websites that you need to apply for a Russian visa from inside your home country or official country of residence. However, I know for a fact that it is at least potentially possible to get a Russian visa while aboard.  An American friend of mine was able to complete the entire process at a consulate in Ukraine within 2 weeks and then go directly to Russia. Your results might vary depending on which country you are in, are from, and who you happen to speak to that day at the consulate.
***Update***
Having arrived in Russia, I want to note some additional important information. This information is important for visa holders of all nationalities, not just Americans.
Migration Card
You will receive a migration card which will be automatically printed for you if you arrive by plane, or that you will manually need to fill out if you arrive in Russia by bus or train. The card has two halves, and it is super important that you do not lose the half that they give you to keep. I recommend making a copy of it or taking photos of it using your phone's camera. You are require to present this card when departing the country, and not having it can result in delaying your departure and having to pay fines. You will also need to present the migration card every time you register at a hotel, hostel, or with a travel agency.
Registration
This is perhaps the biggest pain for long term visitors to Russia who choose not to stay entirely in hotels or hostels. You are legally required to register within 7 days of arriving in Russia. You should also technically be registered somewhere for every night that you stay in the country. If you are staying less than a week, then you don't have to worry about it, and if you are staying at a hotel they will automatically do this for you. Not all hostels will automatically register you, especially if your stay with them is less than one week. However, if you plan on staying longer than a week or traveling further elsewhere in Russia, its imperative that you have them do so.
After every registration, you will be given a stamped and signed slip of paper. Again, I highly recommend making a copy of this. This registration slip should be carried by you at all times, along with your passport, visa and migration card to show to authorities upon request. If you are staying less than a week in a city, carry a copy of your transportation tickets to prove this. Staying in a Russian city for more than one week and then being stopped by the police without a valid registration slip would result in a bad situation.
While the fine for an individual may only be a couple hundred US dollars, hotels are liable to pay outrageous fines if they fail to register you for even a single night or improperly register you. Thus hotels (especially outside of tourist cities such as Saint Petersburg and Moscow) can be extremely paranoid about registering foreigners, and may request to see all your prior registration slips going back to the entry date stamped on your migration card. If you have been in Russia for more than a week and/or have some large gaps between registrations, the hotel may not allow you to stay with them.
So what to do if you plan to stay in a city for many months and rent an apartment or Airbnb? Well if you can get the owner (must be real property owner) to register you, that would be ideal. But getting that person to correctly file the paper work may unrealistic. Thus I recommend using a travel agency who for a fee can potentially register you for months at a time. You can often find hostels who will also offer you this service for a fee, even if you are not staying in them. However, if you buy a 3 month registration, and then midway through those three months travel either outside of Russia (migration card would change upon re-entry and your current registration slip would become invalid) or to another Russian city and register there (can only be registered at one location at a time), then you would would need to pay again for a new registration upon your return. Thus if you are taking a lot of weekend trips, and need to pay an agency to re-register you every time you return to your home base city, it can be both expensive and annoying.

by